Feb. 10, 2023
Ever since Victorian times, houses worldwide have used ornamental fire screens in their fireplaces. A crackling fire both warms and lightens a space, so fireplace screens continue to have an important role in homes today. They're still designed for aesthetics and practicality. However, they're more likely to use more fire-resistant materials like wire mesh instead of the flammable knit fabrics of the past.
Wire Mesh is a Practical & Beautiful Solution for Fireplace Screens
Since ancient Rome, wire mesh has been used for a range of purposes. In fact, Romans used gold wire mesh in jewelry designs. They used material for everything including sieves, filters, and later factory tools. However, it wasn't until recent history when decorative wire mesh applications started emerging in the home. They skewed more utilitarian at first—window screens, grills, and vents—but as technology advanced, woven wire mesh became even more versatile. Now homeowners and interior designers are using wire mesh in a range of creative ways. Installation is easy with most designs.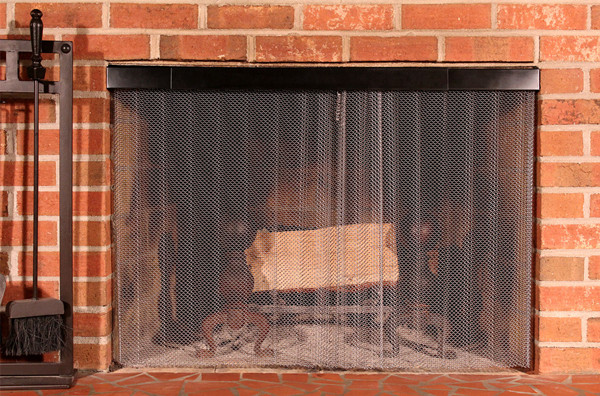 Wire mesh is perfect for fireplace screens for a variety of reasons. For one, it's durable. Years of industrial use have proven that wire mesh lasts due to the strength of its material. Metal mesh delivers dependability without wearing down or rusting quickly. Also, it doesn't need much maintenance to stay looking good. All one must do is occasionally wipe the screen with a damp cloth and dish soap. Plus, more heat can circulate through mesh compared to less permeable materials commonly used in fireplaces, such as glass.
Fireplace mesh screens can complement any decor, from rustic to modern. Screens can be customized with a range of intriguing weaves, sizes, as well as various metals, including uncoated plain steel, stainless steel, and brass. Mounted in a frame, fireplace screens can have stationary or hinged side designs, leaving plenty of options for a customized look.
What Wire Mesh is Best for Fireplace Screens?
Whether you're designing a fireplace from scratch or replacing the façade of your current hearth, wire mesh is an excellent choice for a custom look. The material's not only flame-resistant, durable, and long-lasting but also versatile and aesthetically pleasing.
Having said that, not all metal mesh is created equal. Keep reading for a rundown of the different types, materials, weaves, and styles used for mesh fireplace screens.
The Best Fireplace Mesh Materials for a Look You'll Love
Fireplace screens are both functional and visually appealing. You can light up a room, keep sparks at bay, and complement your home's decor. In terms of metal alloys, the best materials include steel, brass, and bronze. Here's what to know.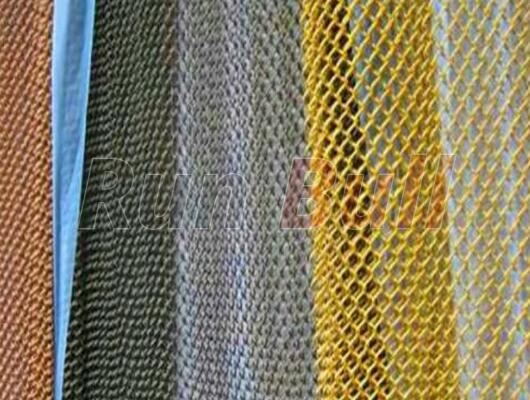 Steel Mesh
When fastening a fireplace cover, there are a few types of steel to consider. Plain steel is affordable and durable with a simple, non-fussy finish. Then there's T-304 (type 304) stainless steel, an easy-to-clean alloy that resists corrosion, rust, and heat damage.
The most premium steel you can get is T-316 (type 316) stainless. It boasts exceptional resistance to heat while still allowing warmth to permeate into the room.
Brass Screens
Brass wire mesh holds up well in high temperatures and other harsh environments. With high tensile strength and excellent abrasion resistance, it's a top choice for custom screens. Not only that, but the relatively warm, golden hue can complement both rustic and traditional designs.
Bronze Wire
Bronze is a copper-tin alloy. This metal is stronger than brass and better at conducting heat than most types of steel. While the rich reddish-brown hue is striking, bear in mind it'll develop a greenish patina over time.
Mesh Weaves & Styles
You'll also want to consider the weave style and opening size. Many fireplaces do well with a simple 8 mesh plain square weave, meaning there are eight openings per linear inch. This type of mesh is available in fire-friendly metals, including steel, brass, and bronze.
Shop Fireplace Screen Mesh from Run Bull Metal Net
Run Bull Metal Net is an experienced manufacturer and exporter of wire mesh in almost all metal materials and weaving types since 1994. Need help with your project? Our experts are on hand to help get you started. Request a free quote today.